How to Use Purple Shampoo for Maximum Results
August 18, 2021
6 Min Read

You've heard about the benefits of purple toning shampoo, and you're ready to banish the brassy tones from your blonde locks, but where do you begin? Although purple shampoo is a bit different from the shampoo you might be accustomed to, using this colorful haircare product doesn't have to be intimidating. In fact, many people regularly use this color safe shampoo to neutralize the yellow undertones that can sometimes appear in blonde, bleached, gray or white hair.‌
As you prepare to try a color care product for the first time, read below to learn how to use purple toning shampoo for maximum results. We're discussing everything from how to apply purple shampoo to when to use it. You can also find some helpful tips to help you become an expert at using purple shampoo for your blonde locks.
How to Use Purple A Shampoo: Step by Step
You might understand the answer to the question, "what does purple shampoo do?", but maybe not to the follow-up question, "how do you use purple shampoo?" This is the biggest question that most people have when they want to start using purple shampoo, so our team has created a guide to help you get started. You might think that turning on the shower is the first step, but the process actually starts way before that.
1. Pick the right purple shampoo
First, you'll select the purple shampoo you'll use. The right color care shampoo makes all the difference in how long your hair color lasts. That's why the below attributes are what helped us craft the perfect color care shampoo:
• Thick color and consistency is needed. A high-quality purple shampoo is opaque, not transparent.
• A specific formula for shade of hair is sometimes necessary for a purple shampoo. Darker purple shampoo is normally made for platinum, gray, or silver hair, and a brighter shade of purple is better for a true blonde shade. You might consider a blue vs purple shampoo if you have brunette hair or darker hair. ‌‌Once you've selected your shampoo, you can begin washing your hair. ‌
2. Use lukewarm water to wet your hair
Not only does warm water soothe your scalp, it also expands your hair shafts and helps them better absorb the purple shampoo. ‌
3. Massage the purple shampoo in your hair
Once you have completely wet hair, gently massage the shampoo into your hair, from root to tip. Give special care to the ends, which are more porous and change tones more easily. Also be sure to pay close attention to any "problem areas" as you go, including brassy or yellow strands.‌
4. Let it sit in your hair
Unlike other types of shampoo, you won't wash the purple pigment out right away. You need to let it sit and do its job first. The amount of time that you'll wait before rinsing depends on your hair color and whether it's been color-treated.
• If you have naturally blonde hair, you'll generally let the purple shampoo sit for about 2-3 minutes before rinsing it with cool water. However, some brands may recommend leaving the purple shampoo on for 5 minutes if your hair is naturally blonde, so pay attention to the directions on the bottle.
• You'll leave the shampoo on for 5-15 minutes before rinsing with cool water if your colored hair has been recently dyed or is discolored. If it's your first time trying purple shampoo, experiment with leaving it on for only 5-10 minutes before washing it out. You can go up to 15 minutes next time if you notice little to no difference after drying your hair.
• If you have platinum, gray, or silver hair, you can leave the purple shampoo on for up to 30 minutes, depending on how brassy or discolored your hair is.
5. Rinse with cool water
Once you let it sit for the appropriate amount of time, you can rinse it out. After rinsing, you'll finish by applying a conditioner to moisturize your hair. You may notice that purple conditioners are available. However, you should only use a purple conditioner with your purple shampoo if you want a pale hair color or ashy tone.
How Often Should You Use Purple Shampoo?
Now that you know how to apply this product, you're probably wondering how often to use purple shampoo. The answer to this question varies depending on your hair and what you want to achieve with it.‌
Typically, you should use purple shampoo about once a week or whenever you begin to notice brassy undertones in your hair. When you aren't washing your hair with purple shampoo, you should use a non-tinted shampoo to prevent your hair from looking too light or developing a purple hue.‌
What if you aren't noticing results? If the purple shampoo hasn't made a difference in your hair after one month of using it, then you can increase your usage to 2-3 times a week. Everyone's hair is different, so you should combine these hair washing guidelines with your best judgment. Or you can always reach out to your hairstylist for advice.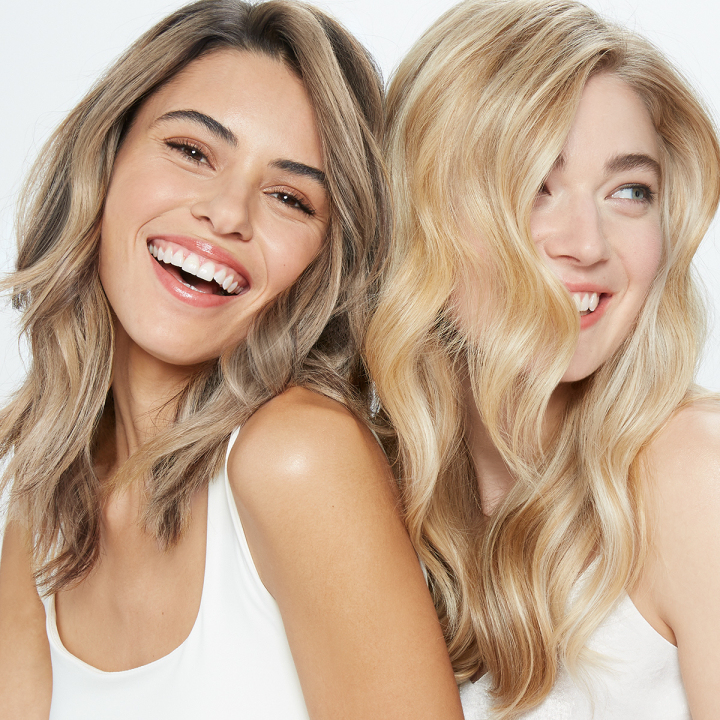 Tips for Using Purple Shampoo for Best Results
Because purple shampoo is such a unique product, it's important to know more than the basics of how or when to use purple shampoo. Many people find the following tips to be helpful when they first start using purple shampoo or switch to a new brand.‌
First of all, patience is key when you begin using purple shampoo. Some people get discouraged when they don't immediately see results from the shampoo. However, purple shampoo doesn't provide the instant results that products like hair dye are famous for. In fact, it's common for it to take several treatments to see a real change in your hair color.
In contrast, other people may notice a slight lilac tint after using purple shampoo. If this happens to you, this means you're using the shampoo too often or leaving the shampoo on for too long. The shampoo formula could also be too strong for your hair.
• To solve the problem of having lilac-tinged hair, the best way to use purple shampoo is by applying one day per week or when you start to notice brassy tones.
• Unless you have white hair or gray hair, you shouldn't leave the purple shampoo on for longer than 15 minutes at a time. If you're already leaving the shampoo on for less than 15 minutes and you're noticing a purple tone, then try leaving the product on for even less time.
• You can mix your shampoo with water in a 2:1 ratio. Then, you can apply it using a spray bottle. If you find that the shampoo is still too strong, you can add more water to the product before applying it.
Although purple shampoo can make your locks shiny and free of brassiness, the product can dry out your hair over time. To keep your hair healthy and soft, deep condition your hair several times a month after you use purple shampoo or when your hair begins to feel dry and frizz.
Finding A Shampoo That Works and Is Good For Your Hair
If you're not sure whether purple shampoo is right for you, you have another option to keep your hair color looking fresh, beautiful and free of unwanted brassy tones. Check out our hair products online, particularly our breakthrough Color Care system, which makes hair color last 2x longer for anyone with blonde or light-colored hair, regardless of whether the color is natural or comes from a salon. 
Our Color Care Shampoo comes in a purple bottle, but the shampoo itself doesn't have a violet pigment. That's because the scientists on our team specially formulated the shampoo to address universal issues, including color washout, damage, UV rays and hard water, that can cause color fading in every shade of hair. This means anyone can use our shampoo, regardless of whether their hair is light or dark. This makes it one of the best shampoos for colored hair.
If you like the idea of purple shampoo but want to use a different type of product, our Color Care Whipped Glaze Light is for you. This whipped glaze deposits temporary dyes. The result is an instant boost in vibrancy and a reduction in brassiness to keep your hair color going strong with simple at-home maintenance. Try it for yourself and be the living proof.‌